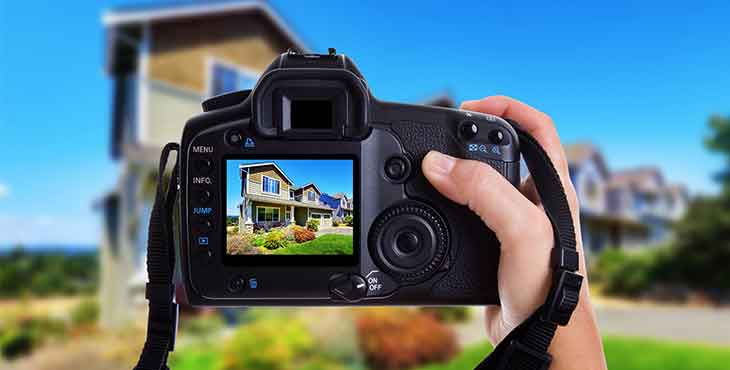 Homes are selling quick (and inventory is at an all time low)
It's 2022 and the housing market is the hottest it's ever been. Homes are selling quick. What's more is that NJ homes are selling $40k-$60k over asking with multiple offers on the table. And while homes in New Jersey are selling faster than ever, if you choose to list it on the MLS, it's important to properly prepare the house in order to get the highest cash offer. Read up on our recent post about decluttering in order to boost the curb appeal of your home (and its final sale price).
However, if you want to sell your house quickly and are looking for an as-is sale … this article is likely not one for you. Instead read up about how we purchase homes as-is, quickly and without need for repair.
---
Finding the right home buyer (with the help of real estate photography)
The more people see your property online, the more people will visit in person, and the more offers you will receive. Luckily in today's environment, there are many options for getting eyes on your listing: traditional photography, 3d tours or even a video walk-thru.
There are many options for getting eyes on your listing: traditional photography, 3d tours or even a video walk-thru.
The reason why is simple, professional photographers know that exceptional quality photos tell the story of a home and make it look more appealing. They know how to use composition, color, and lighting to achieve the best images – and they have the professional equipment to achieve the results!
If you don't want to hire a professional, no problem! You can start shooting consistently beautiful photos in no time by following the tips outlined in this blog.
---
What Is Real Estate Photography … And How Does It Help to Sell A Home in New Jersey?
For some of you, hearing about real estate photography might be surprising. Why would people take photos of houses?
But the truth is, there's a lot of demand for photography in real estate. Especially now that more people are buying and selling NJ houses. This specialized genre may seem simple, but it does require some skill to take photos of homes.
For real estate photography, the location and the size of the house play a significant part in determining the price. Of course, your experience also comes into play. If you're still starting, it will make sense to charge a bit less than your more seasoned competitors.
How to Prepare for a Fast Home Sale: Setting the Stage
Declutter that Ugly House
Decluttering is one of the most important real estate photography tips. Yet, sometimes it's just not possible to declutter a property. Sometimes, a home is beyond messy, beyond repair, its condemned – or just a straight hoarder home (see below). In those cases, we commend to skip the photography completely.
When homes are too messy, retail buyers aren't equipped to purchase them. You will end up attracting investors who will force the sale price even low. That's where companies that buy houses for cash come in.
We've written about how we create our cash home offers quite a few times already but it's important to state it again – It is very likely that you will walk away with more money in your pocket when selling to us, then selling through a realtor.
Yet, if your home is in decent shape – press on! It's important to note that clutter accumulates over time and being the homeowner, we don't notice things that will stand out in a photo.
Make that Ugly House Shine
Here are some quick tips to make your house sell quickly:
Make sure that you clean ALL surfaces, as thoroughly as possible—countertops, coffee tables, desks, and floors
If you want some decorative items in your home, cap it at 1-3 items.
If shooting interiors, don't photograph closets unless they're spacious or customized.
In fact, a closet is a perfect spot to stash those small items until the photoshoot ends.
You'll need to include a picture of one bathroom, and the kitchen too.
Pro Tip: There's nothing wrong with hiding a few extra things under the bed.
---
What will sell my house quick(est): Virtual Tour or a 3D Tour?
As a homeowner looking for a quick sale, is it better to do a virtual tour? Or a 3D tour. Let's take a look at the definitions first.
Virtual tours
A virtual tour is a 360 degree photograph that is immersive. The user can zoom in/out and look in every direction. The most well known company is Matterport, but Asteroom is a close contender…. And if you're curious about a 3d tour looks like, I've included one right here.
Video tours
A video tour is an actual video walk thru of the property. It is often set to music and has professional editing. A video can be one of two things: an effort to attract investors who will prepare a cash offer for your home, or something that will garner more traditional home buyers.
Generally an ugly house – or something that we like to purchase as cash investors tour will look something like this:
Or it could be something a bit more polished: a premium listing on the MLS.
But What Will Sell My House Fast(est)?
Because we buy so many houses, we're confident that the best approach is as follows:
Get your photographs taken. Do it yourself, or hire a professional. The return on your investment will be great.
If you're home is super polished and you're looking for a retail/MLS buyer, then video tours come next. Many websites (Zillow, Realtor.com) are specially equipped to host your virtual walkthrough.
A virtual tour is last. They're particularly effective for cash home buyers but work well for retail/MLS buyers as well… However, get those pictures and video done first.
Ok, so what equipment do I need if I want to sell my house by myself? (keep reading…)
---
Selling Your House Quickly: Getting that Perfect Shot with the Proper Photography Equipment
Real estate photography doesn't require a lot of equipment. Let's go through the list below to see the tools you already have and what you need to acquire.
Camera
For real estate photography, you'll need to have a camera that can shoot manually. Any crop or full-frame sensor DSLR or mirrorless camera would be perfect for the job.
Lens
A wide-angle lens would help you capture tight spaces. Its unique optics also tend to make rooms look more spacious. The best options you have are the NIKKOR 16-35mm for Nikon and <a href="http://<a target="_blank" href="https://www.amazon.com/gp/search?ie=UTF8&tag=sellhousefa06-20&linkCode=ur2&linkId=0e8304ae2605ce854b8d3079ddbabd31&camp=1789&creative=9325&index=photo&keywords=EF 17-40mm f4L">EF 17-40mm f4LEF 17-40mm f/4L for Canon.
If you have the budget, consider getting a tilt-shift lens to improve your photography. This option is perfect for real estate photography because it eliminates the distortion that a wide-angle lens causes. It tends to be more expensive than their regular counterparts. But you can always buy one used for cheaper.
The best ones in the market include the Rokinon TSL24M-N 24mm, Canon TS-E 17mm f4L, and Nikon PC-E FX Nikkor 24mm f/3.5 ED.
Tripod
A tripod is useful when you need to shoot long exposures. It stabilizes your camera and ensures you don't end up with motion blur.
It also helps you retain the perspective in your shots. If you set it up at the height of five feet, then all your images will be the same height.
Remember that consistency is a priority, especially when it comes to real estate photography.
Remote Trigger
If you're shooting with low shutter speeds, then it would be best not to touch the camera at all. Even pressing the shutter to take a photo can introduce unnecessary camera shake.
So I suggest using a remote trigger for touch-free operation.
Flash
Strobes or flashes are among the most essential but often overlooked tools in real estate photography. They are invaluable, especially when taking photos in places that have low lighting.
There are two main types of flashes: Monolights and flashguns. You can start with flashguns because they're cheap. But as you photograph more spacious properties, monolights would be the best option since they have a brighter light output.
There are tons of choices out there from budget Godox TT600S to the top of the line Profoto B10.
Flash Trigger
When using an off-camera flash for your photography, you'll need a flash trigger. You attach the transmitter to the hot shoe of your camera and the receivers to the flash units.
It's worth noting that some strobes already have built-in receivers. Once you finish connecting all of them, just press the shutter, and the flash should fire off at the same time.
Light Modifiers
Bare flash often creates unappealing results when it comes to real estate photography. In most cases, all you have to do is point them toward the ceiling to soften the light they produce.
But what if the roof is too high or if you're not getting enough bounce light?
Then consider using light modifiers. In most cases, shooting umbrellas are enough to do the job. They're small, lightweight, and portable. Not to mention they don't get in the way, especially when photographing in small spaces.
Light Stands
Of course, you'll also need light stands to support your flash units. A regular light stand would often work for lightweight flash heads. But more rigid C-stands may be necessary for the bigger monolights. Depending on the location you're shooting, you may need one to four of these to light up an area.
To start with real estate photography, all you need is a camera, a lens, and a tripod. All the other items we mentioned would help you get better results and finish at a faster pace. But you don't have to acquire all these tools at once.
Prepare Your Gear the Night Before
Preparation is always crucial when it comes to real estate photography. There's nothing worse than being at a shoot and finding that something isn't working. Here are a few tips:
You may be knowledgeable enough to keep going forward. But having a few items fail means that you need to work on your feet a little more.
Always take your charger. A dead battery is a dead shoot.
If you have a secondary camera, take that too.
Prepping your photography gear will include things like charging all batteries, formatting your memory card, packing up your bag.
Look up the address to make sure you've scheduled enough time for the drive.
If you have backup gear that you're able to take with you, be sure to pack those items as well.
Bathrooms typically need just one photo for a property listing unless there are unique features or it's unusually spacious.